Just 33 sleeps to go as we fast approach the first wave of 2018 yearlings going through the ring, starting at Magic Millions on 10 January 2018.  
For many vendors this is primary production and let's face it, breeding businesses each year need to sustain a lengthy period (approximately 8 months July – February) where farm expenditure is at its highest and yearling proceeds seem a long way away. In just under 5 weeks' time we will have a clearer picture, but there are past indicators and current market sentiment that can guide us as breeders' revisit yearling sale expectations.
Since Magic Millions (11 January 2017) and now (8 December 2017), the following has occurred;
  AUD compared to USD is almost the same, at start of 2017 Magic sale (11/01/17) the official RBA rate was 0.7381 and is now 0.7545 (07/12/17)
ASX All Ord Price Index is up 5.4% (1 January 2017 to 7 December 2017);
Most states of Australia announce significant prizemoney increases (Note: Australia has enjoyed an increase of approximately 75% of prizemoney on offer over the past 10 years to approximately $650 million).
Victoria announces a $1 million race for 2YO's bred in Victoria known as The Showdown;
A gelding, REDZEL, wins prizemoney of $84,844.94 per second and Sydney enjoy a crowd of 30,000 plus at the inaugural, The Everest.  This horse acquired by a racehorse syndicator.
A new European record is set at public auction with the 4 YO mare, Marsha, selling at Tattersalls for the equivalent of A$11,300,000, sold by a large group of almost 40 people in total that raced the mare.
The clearance rate at the 2017 premier yearling sales in Australia (4 major) was an average of 88.28%.
The median price expressed as an average (Median/average) at both the Melbourne Premier and Inglis Classic has improved in 2017 compared to the prior year with Melbourne (83.15% vs 76.79%) and Classic (77.09% vs 74.49%) signaling strength in middle market with Trainers/syndicators the main buying bench.
There are currently 100 racetracks under construction in China.
Commentary on the current bloodstock industry marketplace, with a focus on Australia
The Australian breeding and racing industry is in exceptionally good shape.
Overall our outlook for domestic bloodstock market at the middle and top end (Magic Millions, AEYS, Sydney Classic and Melbourne Premier) is positive for the short to medium term (next 3-5 years) despite what may happen to the economy more generally.
RE: the general economy, your guess is as good as mine.  Regardless, I don't think the link between general economy and the bloodstock world is as strong as it may have been say 10 years ago and earlier.
Pre- Tinkler and GFC, about 9 years ago, there used to be a correlation between stock market/property market and our industry.  We would lag the other by about 6 months.
But since Tinkler, who may be accused of trying to be Darley overnight, the "new" Australian major participants, mainly non-residents, seem to have a longer term view. The likes of Newgate, Aquis, Yu Long, Goldin Farms, Rifa Mustang and Spendthrift have acquired property and breeding stock at the high end.  The accepted lag period in the horse industry is 10 years plus.  Empty broodmares recently purchased at the Gold Coast in May 2017 set records in the sales ring but resulting progeny would not be sold as yearlings until 2020.  Further, the many new entrants not selling progeny but wanting to test them as racehorses before shipping to Hong Kong or Singapore, would have to wait until 2022 or later.  Importantly, such new entrants have the capital to not only sustain the inherent lag period in the industry but any worldwide economic shock or bubble bursting.  Domestically as well, big players have entered the market or continue to reinvest.  This is a "can't take out" industry, a game of reinvestment where most continue to put the chips back in.  And they can afford to.
The attraction to Australia's middle and high end of the horse market, and the reasons for which it has been building very steadily for almost 10 years, is on the back of many factors including the AUD$, perception of the quality of our stock, great underlying prizemoney, general trend to globalisation and in our opinion signs of an opening up of the market to the broader public, thank you WINX (worldwide phenomena) and thankyou REDZEL and SHE WILL REIGN (Syndicated horses). A shout out also to the extensive efforts of Aushorse Marketing who work very hard to promote our industry and welcome and educate buyers both internationally and domestically.
THE AUD$ FACTOR
As can be seen in the Table below, the strength or otherwise of the AUD directly impacts the yearling market.  This is particularly evident if you consider that overseas buyers at the 4 major yearling sales in Australia this year acquired 429 yearlings, a total spend of AUD$81,037,800.  A 15% discount in exchange rate as happened at the 2016 sales, resulted in an equal 15% increase in the average price.  Arguably the return to near parity with the USD between 2010 – 2013 placed the yearling prices in a holding pattern.  Although not a determinative factor, the AUD$ factor is major.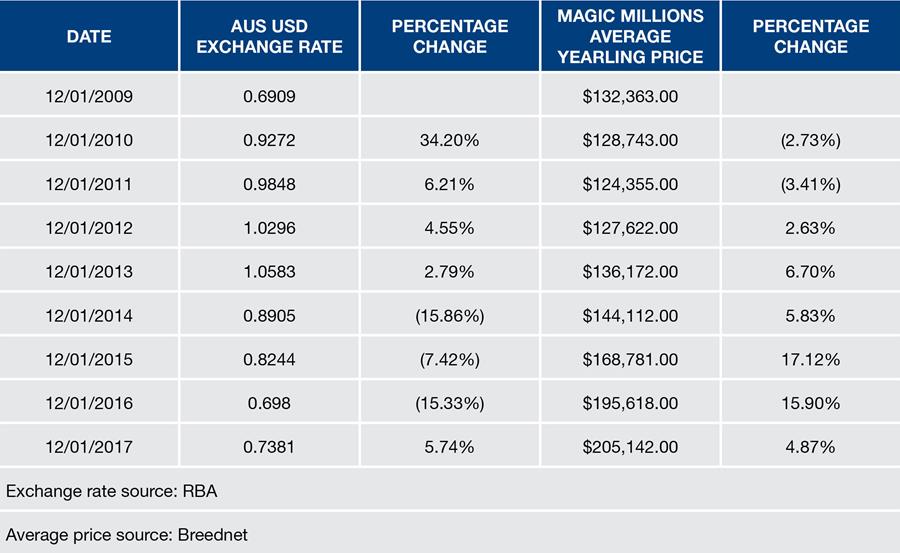 THE QUALITY FACTOR
"Quality is in the eye of the beholder" BUT Australian breeders are also willing to sell most of their stock so what is on offer is perhaps unrivalled worldwide.  The catalogue pages drip in black ink and the specimen itself, this is no doubt improving, as the breeding stock has widened from Colonial stallions and local broodmares to a ready mix of international bloodlines as well. The fact is that the Americans and Europeans would not come down under if the quality wasn't here.
THE PRIZE MONEY FACTOR
There is no doubt that prize money contributes to driving the yearling market in Australia and with state rivalry a hot topic this year, the beneficiaries of staggering increases to prize money are owners.  To think that REDZEL as a 5YO gelding has nearly reached the prizemoney level of the legendary BLACK CAVIAR is mind boggling.
THE GLOBAL FACTOR
The top end, from Keeneland to Tattersalls has been off the charts in recent weeks.  The New Zealand "Ready to Run" sale was also strong.  We expect that global buying bench will arrive here again.  Buyers listed as either China or Hong Kong purchased 68 lots at this years Magic Millions yearling sale in January for a spend of over $16,000,000.  They continued at AEYS with 55 lots totalling over $20,500,000.  Enough said.
THE ALL ORDINARIES INDEX FACTOR
It is also worth looking to see if the Australian sharemarket has any correlation with yearling prices.  In our view there does not appear to be a defining trend (last 10 years) and that other factors are more definitive.  Of some note is that the All Ordinaries index 30 June June 2009 was very low at 3,947.8 down 25.97% from 30 June 2008.  By 1 January 2010 it had returned to a level of 4,882.7 and the 2010 yearling market was down marginally.  There has been steady growth since with a level now around 6,000.
THE SYNDICATORS FACTOR
The syndicator collective are on the move.  This form of ownership has been accepted in Australia for many years and the success of horses like REDZEL and SHE WILL REIGN add further fuel to the fire.
The number of Licensed Syndicator Promoters in Victoria has increased by 33.33% in the past five years from 31 (2012) to 42 (2017).
This is a very important part of the buying bench especially in the vicinity of $75,000 – $300,000.  It also highlights the fact that numerous pockets of the industry exist and the tentacles can reach various market segments.  Some syndicators may target a race such as The Showdown which is restricted to Victorian Breds.  Another example is all women syndicates (GLOBAL GLAMOUR).
We believe that this area of ownership will continue to grow as there is a continued focus on regulation, improved probity should provide added confidence to investors.  Stable Connect holds an AFSL and works closely with the regulators in this area.  It's our experience that new entrants to the industry, including new syndicators, accept the extra probity and professionalism associated with managing owners' expectations and enhancing the experience of racehorse ownership.
Accountant's disclaimer
In our considered view, the Australasian 2018 yearling season commencing in January will continue an upward trajectory.  The extent of the trajectory could be softened if one of the following occurs unexpectedly;
The economy, housing market capitulates (VERY UNLIKELY);
Unforeseen, adverse legislative change (VERY UNLIKELY);
The administrative, colonial divide continues to the industry detriment (UNLIKELY);
Large partnerships continue to form, effectively reducing the buying bench (POSSIBLE);
AUD$ appreciates significantly (UNLIKELY);
The two pillars, Inglis and Magic Millions, significantly changed their lending practices (UNLIKELY).
IN SUMMARY
The Australian horse industry, especially at the higher end commercial level, is as professional as we've seen it at Stable Financial.  Wealthy business people actually care about the bottom line now whereas 10 years ago I reckon it was an indulgence at any cost.
Our office is seeing a steady flow of new enquiries and significant entrants to the bloodstock industry both domestically and internationally.  Our syndication company Stable Connect Limited now boasts 15 Authorised Representatives (syndicator business), an increase from 5 just 18 months ago.
The internationals appear to be planning carefully, have big plans that are longer term.  It will be interesting when some of the newer entrants reach their 7-8th year of operation and expect profits to be normal.  If that does not eventuate I believe they may exit rather than accept losses.  That would have a major impact.  But somehow a Tinkler type seems to appear from nowhere when least expected.
Prediction: Average yearling sale price at 2018 Magic Millions Book 1: $235,000 (up 15%)